Siegmund "Zishe" Breitbart - Strongman
Hugely popular, early 20th Century strongman and modern day Samson
Born: February 22, 1883 - Lodz, Poland
Died: October 12, 1925 - Berlin, Germany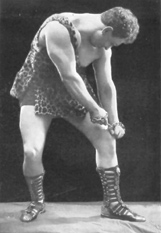 Siegmund "Zishe" Breitbart
Siegmund "Zishe" Breitbart was born in Lodz, Poland in 1883 to an Orthodox Jewish family in which many members were professional blacksmiths. According to his autobiography,
Mein Lebensgeschichte
, his family discovered his unusual strength at the tender age of three years old, when he was able to free himself from a heavy iron bar that had fallen on him in his father's shop. As a boy he was expelled from several religious schools for displaying his strength against fellow students. Drafted into the Russian Army during
World War I
, he was taken prisoner by the Germans but remained in Germany after the war.
He was soon performing in local markets, which is where he was spotted by the director of Germany's Circus Busch in 1919. He joined the circus as a strongman. Standing 6 foot 1 and weighing 225 pounds, he was called "Ironking" and was billed as "The Strongest Man in the World."
Some of his many feats of strength included:
Bending iron bars into floral patterns, biting through chains and tearing horseshoes apart;
Pulling wagons full of people with his teeth;
Lying on his back and supporting cars filled with up to ten people on his chest;
Supporting a bridge built across his chest while bulls or elephants were paraded over him—this routine was called the Tomb of Hercules;
A routine where two men chased each other with motorcycles ridden over his chest;
Lifting a baby elephant while climbing a ladder and holding a locomotive wheel in his teeth with three men suspended from the wheel.
Breitbart Flexing
Believing he was the modern Samson, Breitbart started an organization in the 1920s teaching Jews how to be strong so that they could join him in an army that would eventually liberate British Mandate Palestine. He also wrote a book called "Muscle Power" in 1924, and he began a mail order catalogue that same year, which taught his bodybuilding regimen.
In Christmas week of 1923 he performed in North America in front of over 85,000 people.
While on tour in Europe in 1925, he contracted blood poisoning from a rusty nail that accidentally pierced his leg as he performed a routine, which he had completed many times before, where he would hammer a railroad spike with his hands into several boards positioned on his leg.
As a result of this accident he underwent ten operations and endured eight weeks of suffering, including the amputation of both of his legs, before finally dying on October 12, 1925 at the age of 42.
During his lifetime two German films, one Yiddish screenplay and several poems, jokes and songs were written about him, including a song called the "Breitbart March."
When Breitbart came to perform in Vienna, Austria, the local Zionist paper simply announced to its readership that Samson had arrived.
A movie based on Breitmart's life was made in 2001 called Invincible, directed by Werner Herzog.
Some of these sites were used as source material for this entry and may be of interest to those looking to learn more about this person/topic.
SEE ALSO

Copy the text below to cite your paper or article: