Maurice Rose - Jewish Maj. General, U.S. Army
From a family of rabbis, grew up to become the highest ranking Jew in the United States Army
Born: November 26, 1899 - Middletown, Conn.
Died: March 31, 1945 - Germany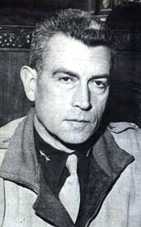 Maj. General Maurice Rose
Maurice Rose, was born the son and grandson of a rabbi and went on to become the highest ranking Jew in the United States Army. During his military career he earned the following honors:
Distinguished Service Cross
Distinguished Service Medal
Silver Star with two Oak Leaf Clusters
Legion of Merit with an Oak leaf Cluster
Bronze Star with an Oak Leaf Cluster
Purple Heart with an Oak Leaf Cluster
French Legion of Honor
French Croix de Guerre with palm
Belgian Croix de Guerre with palm

The following article is from The New York Times, April 3, 1945:
Maj. Gen. Maurice Rose Killed As He Leads Spearhead in Reich
Commander of Third Armored Division Distinguished Himself Many Times During African and French Battles
WASHINGTON. April 2 (AP) —
Major General Maurice Rose, commander of the Third Armored Division, has been killed in action in Germany, the War Department announced today.
The department said General Rose met death "while leading his division in spearheading the advance of United States troops in Germany." The date of his death was not given.
A possible clue to how he met death appeared in a citation a few weeks ago for the Distinguished Service Medal awarded for General Rose's leadership of the division through France and Belgium into Germany. It said:
"Displaying inspiring leadership, tactical skill and great valor, he continuously exposed himself to enemy observation and fire to gain firsthand knowledge of the situation and to direct the attack from a better vantage point."
A dispatch gave another sidelight on General Rose's way of fighting a war. It told how the General a few days ago personally led a squad consisting of a colonel, a major and two privates against twenty German soldiers hidden beside their road. All the Germans were shot or captured.
Negotiated Large Surrender
General Rose also figured as a negotiator the first time the "unconditional surrender" principle was applied to the Germans on a large scale. This was in Tunisia at the time of the collapse of Nazi forces there.
The tall, black-haired Rose then was a colonel, chief of staff to Maj. Gen Ernest N. Harmon, commander of the First Armored Division.
The First Armored had captured Bizerte, and Harmon had just launched his tanks in what he intended as the final blow to break German resistance in Tunisia.
A German envoy from Gen. Fritz Krause came through the lines in a white-draped wagon to ask terms. General Harmon known as "old Gravel Voice;" gave it to him straight - "unconditional surrender, with no effort to escape by sea or sabotage equipment."
General Rose, resplendent in dress cavalry breeches and boots, was delegated to carry the word to Krause. Followed by an American half track with radio equipment, he and the German envoy made their way through the lines with First Armored tanks mopping up all around. They arrived at Krause's headquarters in a shower of explosives from American fighter bombers.
. . .
Twenty minutes later General Rose messaged his commander:
"Sir, General Krause accepts your terms of unconditional surrender."
His answer from "Old Gravel Voice" was:
"Well, how about that bastard up north - does he still want a fight?"
That was code for General Willibald Borowiecz, German commander in the adjoining sector.
Boroowiecz showed up in person at General Harmon's headquarters to give up while General Rose was on the way back.
General Rose was the eleventh American general officer killed in action in this war. Eight others have died in airplane crashes and fifteen from natural causes, while eight are missing and nineteen are prisoners of war.
He married Virginia Barringer on Sept. 12, 1934. They had one son, Roderick.
Served in National Guard
Major General Rose, who distinguished himself repeatedly as the commanding officer of the Third Armored Division in the last year, was born in Middletown, Conn., on Nov. 26, 1899, the son of Samuel and Katherine Brown Rose. He received his first military experience as a private in a cavalry troops of the Colorado National Guard in 1916.
He was commissioned a second lieutenant of infantry on Aug. 15, 1917, after attending an officer's training camp, and was promoted to the rank of first lieutenant in December, 1917. He served with the American Expeditionary Force and won the Purple Heart and the Silver Star.
General Rose was discharged from the Army in June, 1919, but was commissioned a second lieutenant in the Regular Army on July 1, 1920. He was promoted to captain on March 18, 1926; to major on Jan. 1, 1936 and to lieutenant colonel on Aug. 18, 1940.
Named Chief of Staff of the Second Armored Division in January, 1942, he went overseas in December of that year and fought in the North African campaign. He remained with the Second Armored Division until June, 1943, when he was promoted to the rank of brigadier general.
On August 1, 1946, the USS Admiral Hugh Rodman, a 9,676-ton (light displacement) transport, was reclassified the USAT General Maurice Rose.
Some of these sites were used as source material for this entry and may be of interest to those looking to learn more about this person/topic.

Copy the text below to cite your paper or article: